---
Automatic Tablet Inspection
TI
Automatic Tablet Inspection won the competition of Food & Pharmaceutical Machinery Productivity 4.0 Product in 2016.
Inspection efficiency up to 120,000 tablets/hour.
Optical inspection principle:
Automatic optical inspection is a common method in industrial processes. In the use of optical instruments to obtain the surface state of the finished product, and then inspect foreign objects, abnormal patterns and other defects by the computer image processing technology. Tablet inspection machine is used the optical illumination and image measurement technology to inspect size mismatch, surface foreign object, pucker, stained, breakage, twining of the tablet.
Features
1. Follow the requirements of cGMP、PIC/S、21CFR Part 11
2. Using high-sensitivity CMOS CCD to take high-resolution images. Inspect hair and foreign objects, adhesion of dirt and foreign matters, improve the detection accuracy of the edge of the tablet.
3. High-speed image processing technology to improve the quality of inspection process and save manpower.
Specification Sheet
Suitable Tablets

Unpainted tablets, film-coated tablets, sugar-coated tablets, shaped tablets
(option:print, lettering, secant (single、double)

Tablet Dimensions

Appearance

Round ∅5~∅13mm
Maximum length of shaped tablets is 20mm

Thickness

2~8mm (other sizes can be customized)

Tablet Color

Preferred white

Inspection Item

Front/Back、Side

Dirt / Defect / Discoloration printing / drag ink / hair / fiber testing

Accuracy of Inspection

Front/Back

∅50μm

Capacity

TI60K

20,000~100,000 Tablets/HR

Lighting

Front/Back Inspection

Lighting system:High brightness LED diffuse lighting (light diffusing built-in)
Function of light intensity adjustment : more than 30,000 hours

Side Inspection

High brightness LED low angle illumination
Function of light intensity adjustment : more than 30,000 hours

CCD Camera

Front/Back

Standard Inspection:High sensitivity sensor camera. Camera lens:F =2.8 F =30mm

Side

Side Inspection:High sensitivity sensor camera. Telecentric lens:F =6 depth of field ±5.7

Power Supply

3-phases AC200V±10% 3φ ,50Hz/60Hz,above 5kW

Suitable for:
Inspection of capsules, soft capsules, tablet
Inspection of package
appearance inspection of the bottle and cap
Inspection of package label
Tablets aperture inspection of laser drilling machine
capsule trademark sculpture and visual inspection
Inspection of the electronics industry appliance
System introduction:
Tablet turn over to complete 360° inspection.
Inspection of abnormal tablet:size mismatch, breakage, stained, twining of the tablets. (option:identification of tablet lettering and printing)
Inspection accuracy of stained and breakage is 50um.
Two column inspection simultaneously, viewing rate of each column is 60k pcs / hr (tablet spacing 6mm), the dimension of tablets is Ø13mm.
Contact material is SUS316 complied with FDA.
The detect range, the search range and parameter of brightness, contrast can be set.
Production parameters can be memorized. Previous parameters can be loaded.
Abnormal image recording.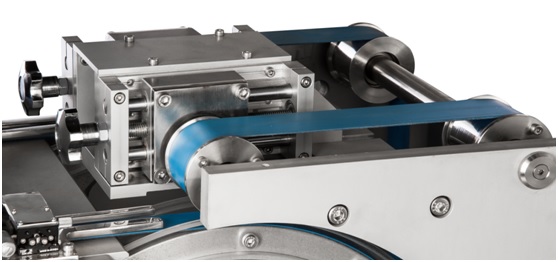 Tension adjusting mechanism
Flow Chart: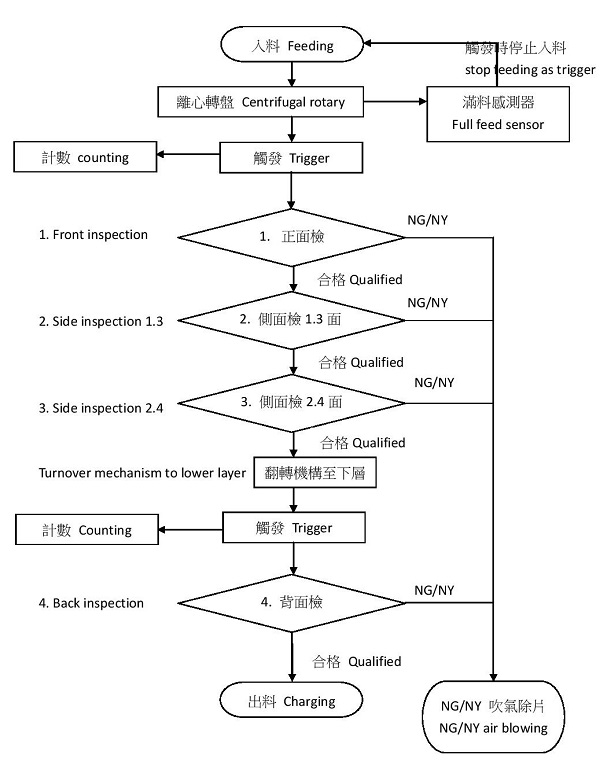 Files Download

---
Automatic Tablet Inspection | Pharmaceutical Machine Supply | Sold in 70 Countries For Over 50 Years | YENCHEN MACHINERY CO., LTD.
Based in Taiwan, YENCHEN MACHINERY CO., LTD., since 1967, is a leading Automatic Tablet Inspection supplier. The main machinery includes extraction machine & pellet machine & coating machine & pharmaceutical machine, high shear mixer, and fluid bed dryer.
Pellet & pharmaceutical machines sold in over 70 countries and has served clients, namely Pfizer, Novartis, Abbott, Boehringer Ingelheim, GSK, Merck, Eli Lilly, Daiichi-Sankyo, Takeda, Eisai, Otsuka, YSP, Novast, Sanofi-aventis, etc. The newly built over 6000 square meter production factory allows high-quality equipment manufacturing, particular for pharma, food, biotechnology, chemical, and cosmetic sectors.
Yenchen has been offering customers high-quality pharmaceutical machines since 1967, both with advanced technology and 53 years of experience, Yenchen ensures each customer's demands are met.
View our quality products
Tablet Coating Machine
,
BIN
,
IBC
,
Cone Mill
,
Tablet Processing Machine
,
Fluid Bed Dryer
,
Granulator
,
Coater
,
Fitz Mill
,
Laser Drilling
,
Carving Machine
,
Lifting
,
Turning
,
Tilting Device
,
Dry Granulator
,
Power Mill
,
Rocking Mixer
,
High Shear Mixer
,
Super Mixer
,
Microwave Dryer
,
Dryer
,
Sample Taker
,
Tumbling Mixer
,
V-Mixer
,
Vacuum Suction Device
,
Cloud Mill
,
Pelletizer Machine
,
Centrifugal Coater Granulator
,
Roller Compactor
,
Through Circulation Dryer
,
Wet Granulator Extruderr
,
Disc Centrifuge
,
Decanter Centrifuge
,
Extraction Machine
,
Extraction Equipment
,
Agitating
,
Pre-Production
,
Spray Dryer
,
Vacuum Concentrater
,
Ointment
,
Cream Filling Machine
,
Vacuum Homogenous Mixer
,
Planetary Homo Mixer
,
Automatic Bottle Washing Machine
,
Semi-Automatic Rotary Bottle Washing Machine
,
Oral Dosage Equipment
,
Storage Tank
,
Hot Air Sterilizer
,
EO
,
Gas Sterilizer
,
Automatic Inspection Machine
,
Automatic Tablet & Capsule Inspection Machine
,
Capsule Filling Machine
,
UV Laser Printer
,
Steam Sterilizer
,
Vial Washer
,
Distilled Water System
and feel free to
Contact Us
.